Did you miss our recent seminar? Stress: A Multi-Disorder System
Well don't stress…your opportunity to gain an understanding of this ground breaking material is not lost.
An audio recording of the Seminar "Stress — A Multi-System Disorder" presented by Dr. Andrew Heyman comes alongside a folder containing Dr Andrew Heyman's presentations and a FxMed Stress Solution Guide.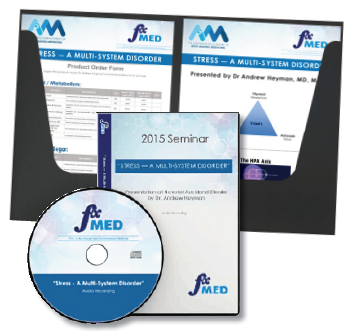 Practitioner Price $35 exc GST
Feedback from the seminar:
Practitioners in the US pay over $1000 to hear Dr Andrew Heyman speak, here's a sample of the feedback we received from attendees:
 I'd just like to say thank you so much for this seminar, it was great and also one of the best value events I have ever been too!
It was superb info and a great speaker. I'd be interested in more by Dr Heyman in the future…
Who knew we may have been causing more damage than good? Shocking information and a total game changer when it comes to treating people with stress
I never knew the Hippocampus has more cortisol receptors than any other organ or that 90% of serotonin is made in the gut! Fascinating stuff.
Loved the triad approach to balance!
So much amazing information!
About Dr Andrew Heyman
Medical Practitioner
National Clinical Chair of the Consortium of Academic Health Centres for Integrative Medicine
Program Director for the Department of Integrative and Metabolic Medicine at George Washington University
Faculty member of the Fellowship for Anti-Aging and Regenerative Medicine Fellowship (A4M)
Online Editor for the Journal of Men's Health
Editor in Chief of the Internet Journal of Anti-Aging and Aesthetic Medicine
Dr. Andrew
Heyman, an Internationally recognized Integrative & Natural Medicine expert to Auckland to share valuable insights on the impact of the "stress system" on various disease processes.
Dr. Heyman has been featured on the Discovery Channel, Martha Stewart Living Magazine, Ladies Home Journal, Natural Health Magazine and appeared in many other TV and print venues and isa widely sought after and celebrated speaker around the world on many Integrative Medicine topics. His teaching approach is described as deeply rooted in scientific evidence grounded in the clinical reality of expert patient care and readily accessible to both the new learner and seasoned practitioner alike.
About the Seminar:
This seminar provided health professionals with an advanced understanding of the body's "stress system", the HPA axis and outlined clear strategies for treating stress-driven hormone imbalances, thyroid dysfunction, metabolic disorders and autoimmune conditions.
Top Learning Objectives:
Overview of & link between the HPT & HPA Axis
Understand the major reversible stressors driving HPA Axis dysfunction
Discuss the Intersection of the stress response, immune, & gastrointestinal system
Understand the microbiome & its impact on me ntal emotional stress
Natural & pharmacological intervention options for improving glycemic control & hormone balance
Case studies