Perimenopause with Dr Carrie Jones [LoxTOX Life #140]
This talk is all about Perimenopause. It can be a destabilising time for women but it doesn't have to be, and Carrie takes us through what's happening, what we can do to mitigate disaster and how testing (not sponsored by the way!) can ensure we get a clear picture of what's going on for us bio-individually so that we can move forward with our eyes wide open through this time in our lives.
The framework of the chat with Carrie is as below:
Perimenopause – let's take a look at how it's defined to kick things off. Our biology is changing: How?
Is it as with our periods/cycles: What we do in our lifestyle and how we mitigate imbalances, affects our symptom situation as we enter this new phase?
What kind of testing (of course spruik the Dutch here as you see fit) is going to help us navigate this phase feeling empowered instead of reactive and scared?
We talk a lot about estrogen/progesterone during this time, but what about DHEA: What do we need to know there?
What about women on birth control (I'll refer them to our previous show and the one with Jolene to get up to speed on why NOT to be) – how do they navigate this phase when their hormones aren't even doing their natural thing, to begin with?
As we head into our 40s and 50s it seems a time when so many women start saying they're forgetful / more anxious than usual… Let's dig into brain health as it relates to our hormones and in particular, what's going on during perimenopause. (This will illicit probably a ton more questions/tangents for a bit on this subtopic)
Women in their 40s/50s these days – we take the motherload of the home duties on, still, we're often also at the height of our careers, we often have children moving into their teens and adulthood, demanding more brain space than we anticipated perhaps – let's talk that good ol' chestnut: STRESS and its impact not just all the time in life, but specific to our changing body in this life phase.
There's no magic pill to make this a cruisy, barely noticeable phase in life and different peeps need different things: So, to help people see that self-prescription/going in blind ain't the way forward, can we talk through some examples of what's going to work for who and how varied the requirements can be depending on the individual needs of the person?
Dr Carrie Jones, ND, MPH, Medical Director for Precision Analytical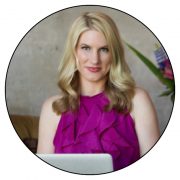 Dr. Carrie Jones' passion and expertise lies in the areas of hormonal, adrenal, and thyroid health. She recognises that imbalance can occur at any age and believes it is important to look at the big picture such as the appropriate use of lab testing. Dr. Jones graduated from the National University of Natural Medicine (NUNM) in Portland, Oregon then went on to complete her residency in women's health, endocrinology and hormones. Later she graduated from Grand Canyon University's Master of Public Health program with a goal of doing more international work and health empowerment. Dr. Jones is an adjunct professor at NUNM and regularly consults, lectures, and writes on the topic of hormones, thyroid, adrenals, autoimmune and more.
As the Medical Director for Precision Analytical, Inc., her goals are to provide ongoing cutting edge integrative clinical education to the large network of providers paving the way of healthcare with functional medicine.